Thoughtful design is being integrated into the kitchen, and we're here for it. Kitchens adorned with colorful accents, filled with natural materials, and emanating sheer luxury are trending. With so many up-and-coming design trends, this central home space becomes an enchanting place for families to cook, gather, and make lasting memories. Try incorporating these kitchen trends in your Northbrook, Illinois home today.
Color makes a comeback

The kitchen is the heart of the home, and this rings true more than ever since the pandemic. Since we are spending more time in this space, it is only natural that we want to make it feel more personal. Bold, contrasting colors are making their way into our kitchens, adding a vibrant personality and charm to this essential room. One easy way to incorporate pops of color is by picking two shades on the opposite sides of the color wheel, such as green and pink.


Before diving headfirst into painting the entire kitchen, begin by deciding how much of a permanent commitment you are willing to make. If you're unsure about redecorating the entire room with bright colors, start with painting just one wall, making it easy to update if you tire of it. If you're more of a risk-taker, consider painting your cabinets in fun, appealing colors — rich navy blues and emerald greens are trending. Check out this
color wheel
guide by Homes & Gardens to help you mix and match colors and create a kitchen as lively and beautiful as you are.
Closed-off kitchens

In contrast to the long-lasting open-concept trend, people are opting to have a separate space to escape from life's various distractions. Having the kitchen be its own room gives people a break from tedious daily tasks (and family members when needed) and makes the space feel more intimate and special. With many people returning to the office, we could all use a serious hiatus from constant screen time, and a closed-off kitchen could be just the sanctuary we need.
Double islands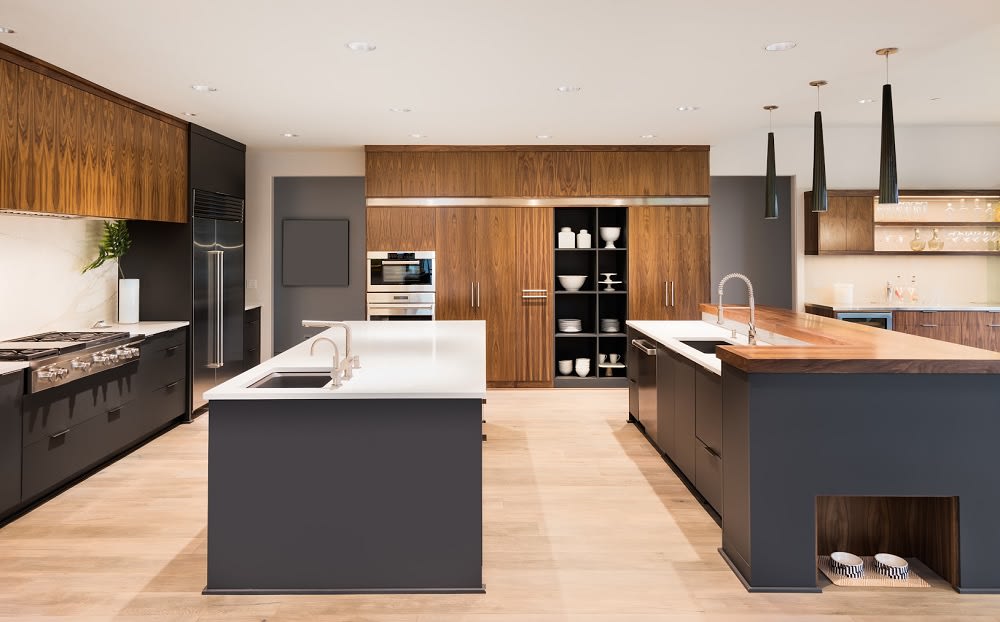 Kitchen islands are the epitome of multipurpose areas, serving as prep stations, eating counters, and breakfast bars. Islands also serve as makeshift desks and conference tables for many who work from home. Many are upping the ante this year by having not one but two islands! Having double islands means more space for people to prep, eat, work, and just spend more time with the ones they love.
Hidden storage

Storage has always been essential to the kitchen, but even more so as we move through the pandemic. People are acquiring more gadgets to make cooking easier and have stocked up on cupboard staples, so finding a good way to organize these things is crucial. Working hidden storage into our kitchens adds to our upgraded, modern way of living, making multitasking and sleek environs easier to achieve than ever before. Technological advances in push-open cupboards mean we can ditch handles in wall and base cabinets, creating a more refined and polished look. Hinge doorways are another tool for creating hidden storage spaces, making spaces appear invisible and tucked away; this is especially useful for walk-in pantries and secret wine rooms. As we accumulate kitchen gizmos and spend more time at home, it's become critical that we not only have the space to store these things but that we keep them hidden so that our kitchen can bring us a sense of calm and peace.
Open shelving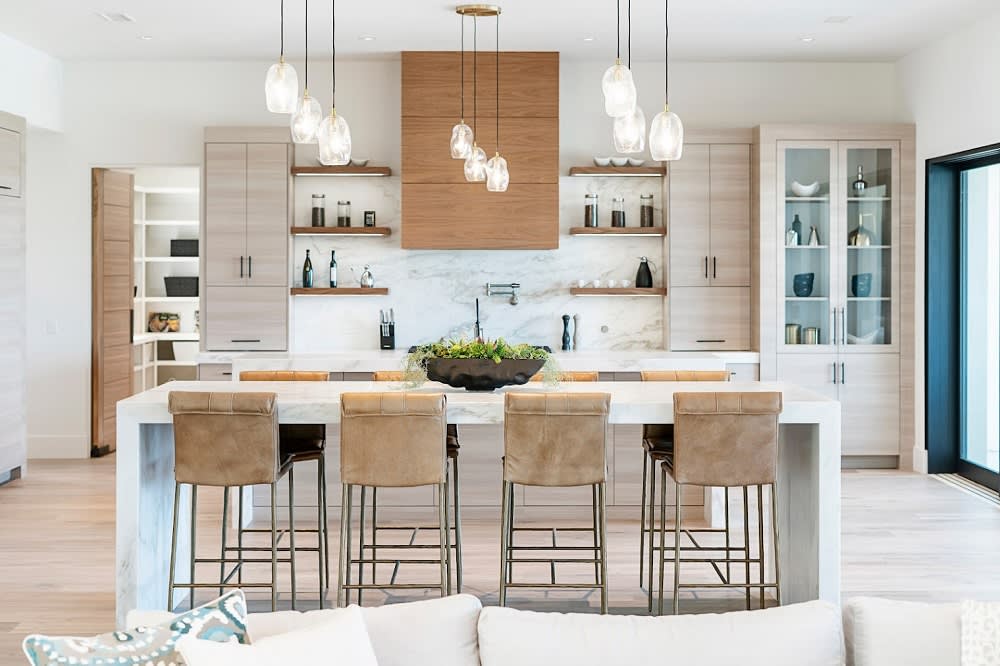 Though the open shelving kitchen trend has been around for a while, this modern craze will be resurrected in 2022 in a major way. This kitchen trend will be prevalent in coffee stations and wine bars. Utilizing open shelves to display a few coffee mugs and your home brewing system or a sleek and understated wine rack with
stemless wine glasses
makes for an inviting and stylish addition. Note that this design trend is rather flexible and easy to achieve. Begin by simply removing your cabinet doors to see if it works for you, and if you find you love it, you can replace those cabinets with true open shelves. Budget-friendly, convenient, and a perfect way to fill odd spaces,
open shelving
is a must-try kitchen trend.
Natural light

One way to breathe life into a kitchen is by bringing in natural light. Expansive windows and large skylights will be a major design trend in 2022. We could all use more nature in our lives, and what could be more enjoyable than making eggs in the morning with the sun's warm rays beaming down? For the ultimate classy touch and warmth, let sunlight fall across various textures, such as wood grain, granite, glazed tile, etc. Gone are the days of cold, stainless steel-laden kitchens; we're turning to natural touches to reconnect with the earth.
Statement lights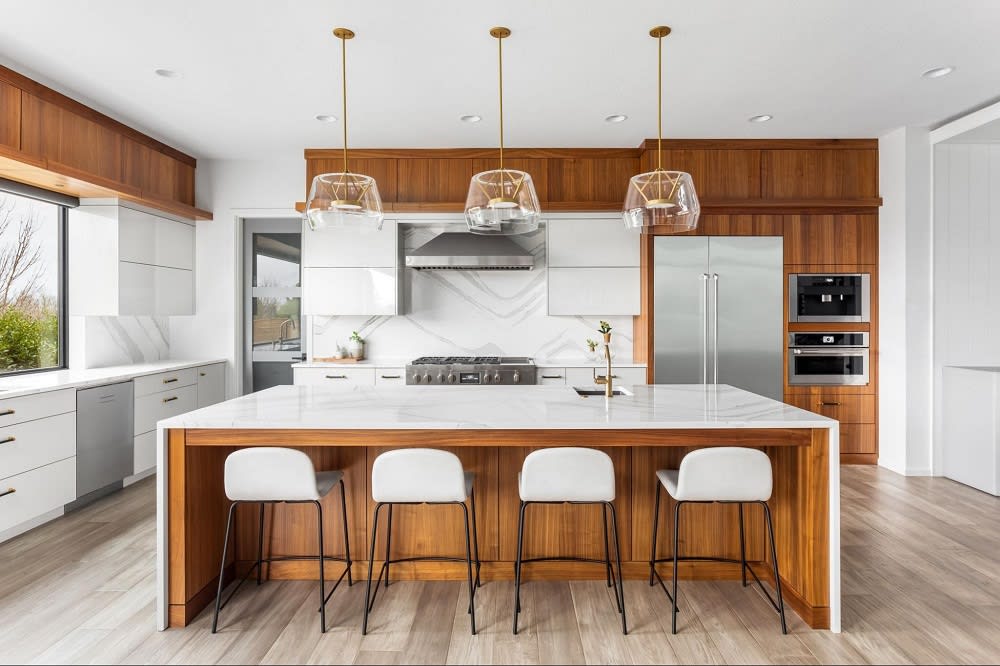 Light fixtures are more than functional pieces in 2022 - they're making a statement. Linear lighting is all the rage right now, bringing a beautiful essence of modernity while also providing consistent lighting. This type of lighting works particularly well when placed above kitchen islands. Pendant lighting is the most common way to light up an island. They look fabulous and come in a variety of styles, ensuring you'll find one that fits the aesthetic you're after. Browse this
guide
for additional statement lighting ideas.
Wood accents

With many spending more time at home, people are looking for more ways to bring the outdoors in. Natural materials, wood, in particular, are becoming increasingly popular. Out of fashion for a while, wood is making its way back into our kitchens, especially in the form of cabinetry in subtle-grained ash and deep walnut. Keep things light with rye and hickory tones to brighten up the space. Additionally, wood accents work well in combination with stone or metal, creating a blank canvas to add color and personality. Just because it's natural doesn't mean it can't be lavish, as stone accents add a touch of the outside world in a refined way.
Marble magic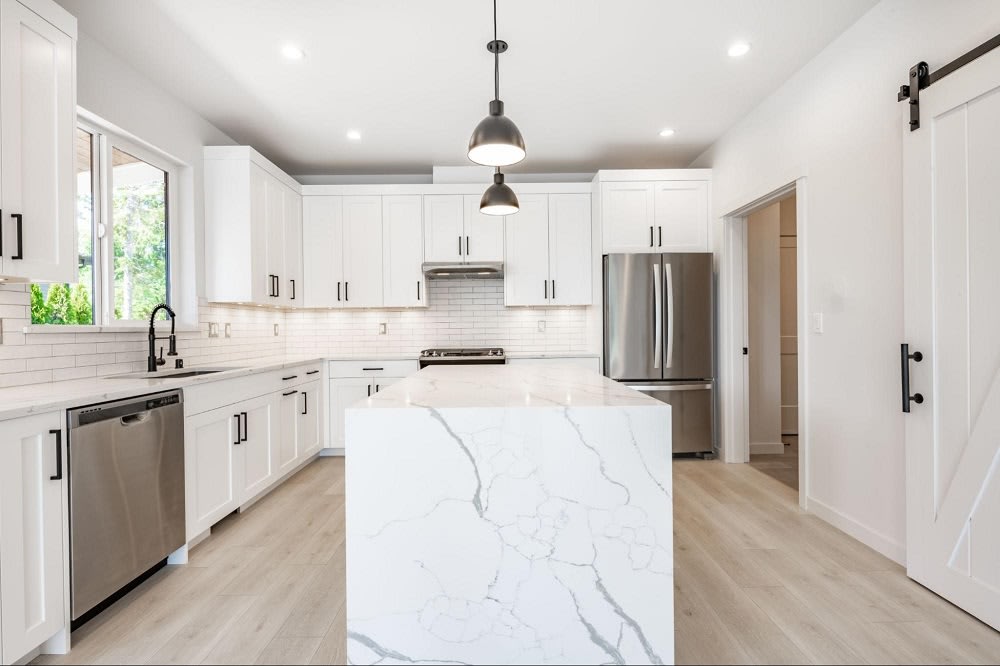 Nothing says luxury quite like marble. A fine, high-quality material that has always had a sheer elegance about it, marble is making a comeback. Not only is this material a popular choice for kitchens and bathrooms, but it is also highly sustainable and eco-conscious. Marble is durable and adds a classic touch to any home, making it an excellent investment for kitchen countertops, islands, or flooring. Opt for marble with naturally strong veining to add statement value and the textural contrast between other polished surfaces, wood, and metal.
Mixing materials

Combining materials is an integral part of mindful kitchen design. For instance, a space with dark wood panels and intricate latticework on cabinetry creates a contrast that adds depth and energy to the kitchen. We'll be seeing more wood tones, brass accents, and creative combinations that will further enhance our time spent in the kitchen.


Are you looking to buy Northbrook real estate, sell your home, or simply need a realtor to assist you with luxury home design ventures? Contact
The Jane Lee Team
today to assist you with all of your Northbrook real estate inquiries.